The latest on Holly Valance.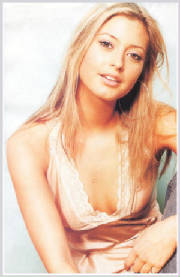 The former Neighbours actress and pop starlet must have thought her career was picking up after being offered a part in the popular, plastic surgery drama, Nip/Tuck. Horrified Holly, however, turned down the job after learning her character would be involved in a steamy threesome with Dr Christian Troy, played by fellow Australian, Julian McMahon. The twenty-year-old, doe-eyed, beauty was reportedly shocked by the producers' indecent proposal. "Holly would have loved to appear in Nip/Tuck, but she was not too pleased when she heard what the storyline would be", a friend told British tabloid The Sun. "She was shocked when they wanted her to be involved in a (threesome). She is now in talks about other roles." Unlucky Holly was recently forced to turn down a role in top-rating CSI:Crime Scene Investigation because she could not secure a US work permit in time. The State of Mind singer, who moved to London to work on her music, has not set the charts alight since her hit Kiss, Kiss in 2002. If Holly fails to clinch another role on Nip/Tuck, though, she could always pack her bags and head to Canberra. A recent survey by men's bible FHM found Holly was one of the women Canberrans fantasize about the most.
Holly Valance claims reports she's been dropped by her record company are false - even though she plans to concentrate on acting for the next year. It had been claimed the leggy Australian's fledgling pop career had faltered after she failed to follow up on the success of her first couple of singles. However, Valance insists she's still with Universal Records, even if she admits personnel changes at the label have thrown her future into doubt. She explains, "So much is happening there at the moment, a lot of things are moving around and changing. I've always had an excellent relationship with the people there. I just feel positive about it, even though internally a lot of people are leaving, new people are coming in. Whether that's going to affect artists that are signed, I'm not sure at this stage. But I'm not worried about that either, because there's always going to be other things. I'm still young, a lot of people have stories to tell from their early days of ups and downs." Holly also concedes she is to concentrate on her acting career this year - and is considering spending time in America after leaving her London home of the last two years. She says, "Acting and music are both my loves, but I always want to try to do both. I had already told my management this year the music's going to take a back seat a little bit because I also want to follow my other passion." (wenn) http://au.launch.yahoo.com/040630/10/xdq.html

News: Latest on the Holly Valance Fan's website.
Well I just started on the site so it may take a while for me to actually complete it. I added all the things any other site would have, bio, news, all that good stuff ;-). Well I did add a little somthing extra to my site. Unliek alot of people I decided to add a chatroom. I think it's really coll dont you think? Well I do, anyways, I will be adding more things in the near future. SO keep comming back for updates. I hope you enjoy it so far. I think I did a good job *pats self on the back* lol. Well see ya around!